Hey members!
We cannot thank you enough for your patience, endurance, and compassion throughout the pandemic. New York Governor Andrew Cuomo announced that New York State will be following the CDC's guidance on reopening. This means that as of May 19th, fully vaccinated individuals no longer need to wear masks indoors as businesses permit. If you are fully vaccinated, you will no longer be required to wear a mask when working at BKLYN Commons.
Please continue to be respectful of each other's space while coworking and contact the BKLYN Commons team with any questions, comments, or concerns.  
As the world inches towards a new normal, BKLYN Commons looks forward to hosting in-person celebrations, events, and milestones for our members and the community. If you would like to reserve BKLYN Commons' expansive outdoor rooftop patio for your upcoming engagement, please contact BKLYN Commons Event Manager, Lorraine Campbell: lorraine@bklyncommons.com.
Here's a look at what events are happening at BKLYN Commons in July:
Wellness Wednesday with Dr. Toni
July 7 | 1-4pm | BKLYN Commons PLG/Flatbush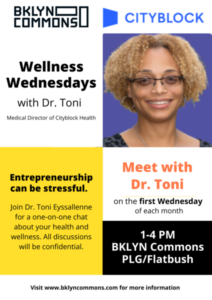 Join Dr. Toni Eyssallenne, Market Medical Director at Cityblock, for a one-on-one discussion about health and wellness. Dr. Toni will be available from 1-4pm at BKLYN Commons PLG/Flatbush location to hear individual concerns regarding health and wellness. All individual discussions will be confidential.
Cooperative Collaboration:
How to Market Your Business in a Collaborative Way
July 12 | 6:30-7:30pm | BKLYN Commons PLG/Flatbush Rooftop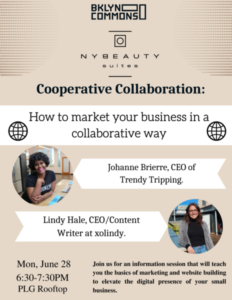 Presented by: Johanne Brierre (CEO of Trendy Tripping) and Lindy Hale (CEO/Content Writer at xolindy)

Join the BKLYN Commons content team for an information session that will teach you the basics of marketing and website building to elevate the digital presence of your small business.
Goodwin's Neighborhood Business Initiative (NBI) Presents: Crowdfunding
July 13 | 10am-11am | via Zoom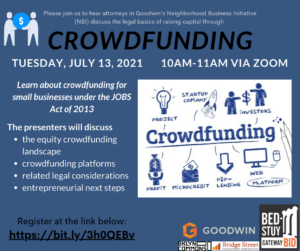 Join Goodwin's Neighborhood Business Initiative (NBI) to hear attorneys discuss the legal basics of raising capital through crowdfunding. The presentation will focus on crowdfunding for small businesses under the JOBS Act of 2013. Presenters will provide an overview of the equity crowdfunding landscape, the role of crowdfunding platforms, and related legal considerations, and discuss next steps for an entrepreneur interested in pursuing equity crowdfunding. The presentation will conclude with a Q+A session.
Thwock Media Live Music & Arts Event
July 16 | 7pm-11pm | BKLYN Commons Iconic Hall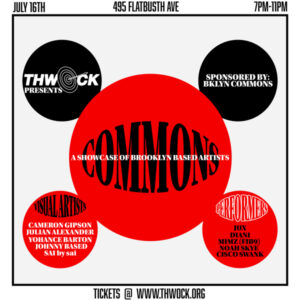 Thwock Media Live Music & Arts Event
Showcase of artwork from Brooklyn-based musical, and visual artists
Obocho's Closet Pop-Up Pantry
July 17 | 11am-1pm | BKLYN Commons Rooftop Flatbush/PLG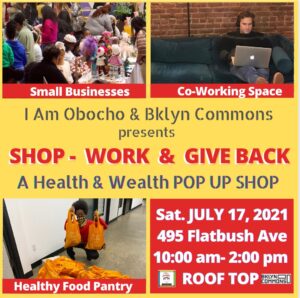 Join BKLYN Commons' youngest entrepreneur & humanitarian, Obocho Peters (12), for a pop-up community food pantry on BKLYN Commons rooftop. The pantry is aimed to build a healthier community. To date, Obocho's community food pantry has served over 350 families with hand-picked healthy dry goods and hot vegan meals purchased from local restaurants. All items are free to BKLYN Commons members, as well as members of the community.
Fèt Èzili Haitian Culture Celebration
July 24 | 6pm-11pm | BKLYN Commons Rooftop Flatbush/PLG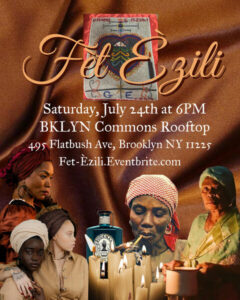 Join Bohio Music for the premiere of Fèt Èzili, an event to celebrate and honor the Èzili tribe through music, dance, food, and offerings. This event will include prizes for best dressed Èzili, a traditional Haitian herbal tea ceremony, tribal face & body painting, a musical performance by Bohio Music performance, Haitian bites and cocktails, and more!
Guests are welcome to bring an offering of flowers, fruit, perfume, champagne, or rum for the Tab ofrann offering table. 
Silver, Lake: Rooftop Art Mixer by Adam Chuck
July 29 | 6pm-9pm | BKLYN Commons Rooftop Flatbush/PLG
Please join us to celebrate the work of queer artists at the second showing of Silver, Lake: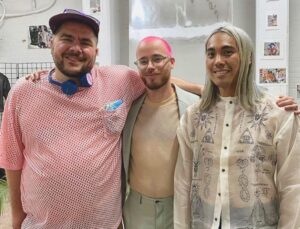 Artist Adam Chuck (center) opened his solo art gallery on May 22 at BKLYN Commons' PLG/Flatbush location. Chuck transformed blank walls at BKLYN Commons into a visual journey, displaying nearly 400 paintings across walls, floors, and columns.

"That's ten years of my life, and all of the events and emotions, transcribed in oil on small silver squares," said Chuck. "My main intent in my work is to represent the beauty of the larger queer community and my chosen family, to show the beauty in all types of bodies, and to record our lives in these times."
Silver, Lake is able to be viewed on by appointment only now through July 11, 2021. 
Please be mindful of the private events taking place at BKLYN Commons this month:
Tuesday 7/6: 5:45-7:45pm
Sunday 7/11: 3pm-8pm
Saturday 7/17: 1pm-5pm + 6pm-12am
Friday 7/23: 6pm-12am
Saturday 7/24: 10am-2pm
Saturday 7/31: 6pm-11pm
Questions? We're Happy to Help.

Our team is available to chat Monday-Friday from 9am-5pm. Stop by the front desk, chat us on our website, or email info@bklyncommons.com and we'll be in touch with an answer soon!